Όλα όσα είδαμε και κάναμε στη μαγευτική ορεινή Κορινθία: πυκνά δάση και λίμνες, εκδρομές και αξιοθέατα, υπέροχη κουζίνα, εγκάρδια φιλοξενία.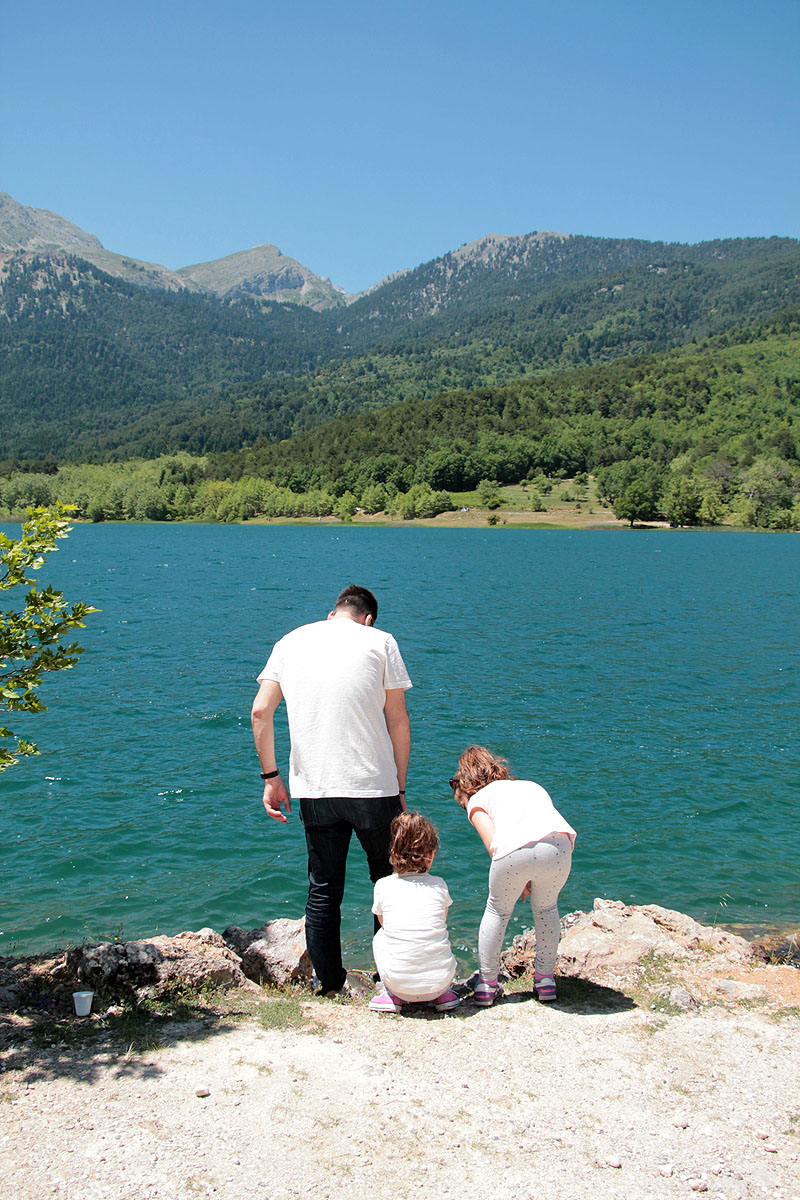 Ένα επιβλητικό βουνό με χιονισμένες ακόμα τις ψηλότερες κορυφές του, δάση με άγρια κυπαρίσσια, έλατα και μαύρη πεύκη, λίμνες, οροπέδια που θυμίζουν αλπικό τοπίο, ένα απίστευτα γαλήνιο σκηνικό και αυθεντική, εγκάρδια φιλοξενία.
Ένας τόπος καταπράσινος, μαγευτικός και ευλογημένος, με έντονη μυθολογική αύρα, σε μικρή απόσταση από την Αθήνα.
Αυτή είναι η ορεινή Κορινθία που γνωρίσαμε, αγαπήσαμε και αποχωριστήκαμε απρόθυμα.
Για λόγους που πραγματικά δεν μπορέσαμε να προσδιορίσουμε/κατανοήσουμε, η περιοχή της ορεινής Κορινθίας είναι γεμάτη κόσμο από τον Οκτώβρη μέχρι το Πάσχα, το τριήμερο του Αγίου Πνεύματος και όλο τον Αύγουστο.
Ως εκ τούτου, οι περισσότεροι ξενώνες και ταβέρνες δε λειτουργούσαν τις ημέρες που ήμασταν εκεί. Αλλά αυτό δε μας ενόχλησε καθόλου.
Έχετε υπόψη πάντως ότι η περιοχή έχει έντονα τουριστικό χαρακτήρα και τα χωριά στερούνται γραφικότητας (συγκεκριμένα, από τα Τρίκαλα στα οποία μείναμε, απουσιάζει κάθε αίσθηση "χωριού" και αποτελούνται κυρίως από καλόγουστα καταλύματα, παραδοσιακές ταβέρνες, καφετέριες και μπαράκια, αρκετά εναρμονισμένα ευτυχώς με το φυσικό περιβάλλον).
Ελπίζω ότι δεν σας μπερδεύω με αυτό που μόλις έγραψα. Σε καμία περίπτωση δεν θα ήθελα να σας αποτρέψω από το να επισκεφτείτε την ορεινή Κορινθία, το αντίθετο μάλλον! Θέλω να σας προτρέψω να αγνοήσετε οτιδήποτε "trendy" και κραυγαλέα εμπορικό και να εστιάσετε στα αυθεντικά στοιχεία, τις πανέμορφες διαδρομές και τα μοναδικά αξιοθέατα που χαρακτηρίζουν την ευρύτερη περιοχή.
Τι είδαμε και κάναμε στην ορεινή Κορινθία λοιπόν, με χρονολογική (περίπου) σειρά:
Επισκεφτήκαμε τη λίμνη Στυμφαλία, αποστραγγισμένη πια στο μεγαλύτερο μέρος της και φανταστήκαμε τον Ηρακλή να απομακρύνει τις Στυμφαλίδες όρνιθες: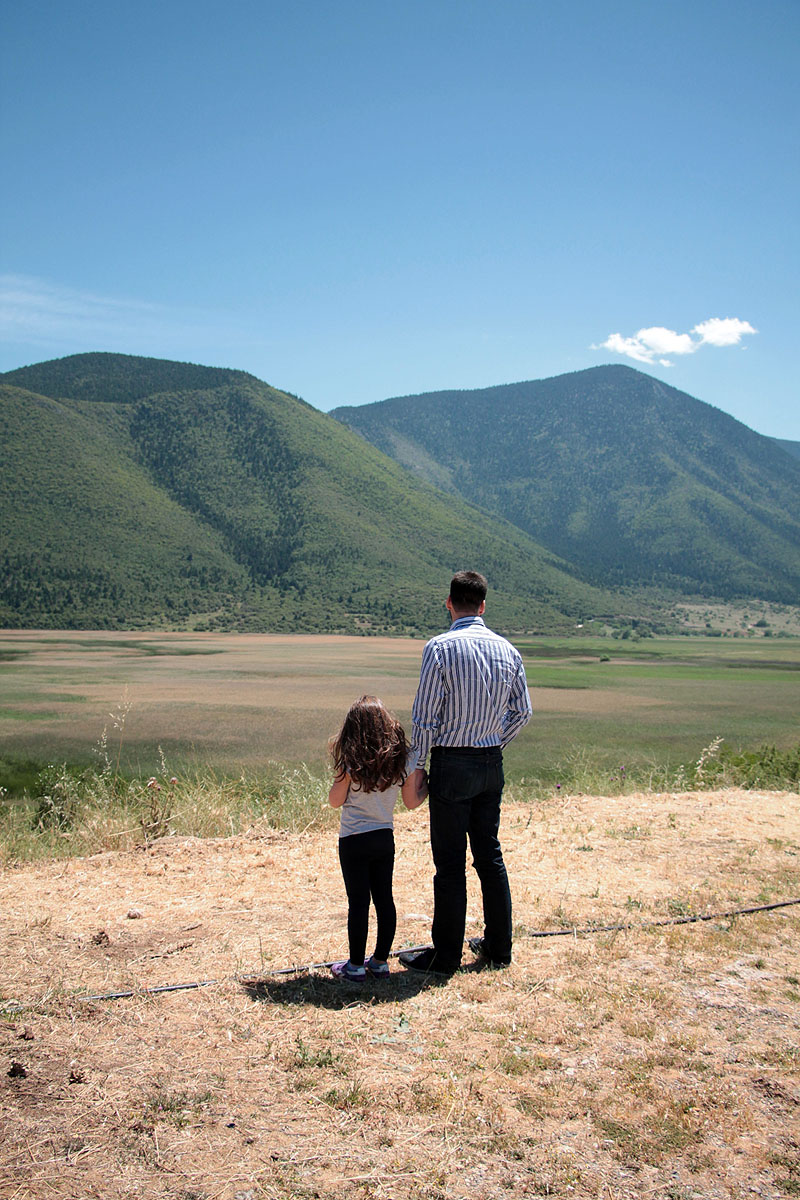 Περιηγηθήκαμε στους φωτεινούς χώρους του -πολύ φιλικού προς τα παιδιά- Μουσείου Περιβάλλοντος Στυμφαλίας:
Στόχο του μουσείου αποτελεί η οικολογική ευαισθητοποίηση του κοινού και η διάσωση της γνώσης για την παραδοσιακή τεχνολογία της περιοχής.
Με πλούσιο εποπτικό υλικό, μακέτες, ψηφιακές αναπαραστάσεις και εξαιρετικές θεματικές ενότητες, μπορέσαμε να κατανοήσουμε τόσο τη σημασία του οικοσυστήματος της λίμνης όσο και τον τρόπο με τον οποίο επηρέασε την ανθρώπινη δραστηριότητα.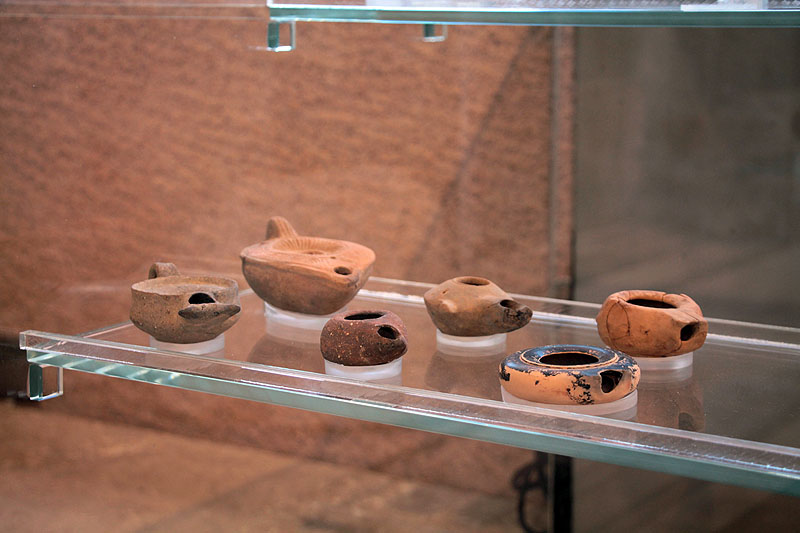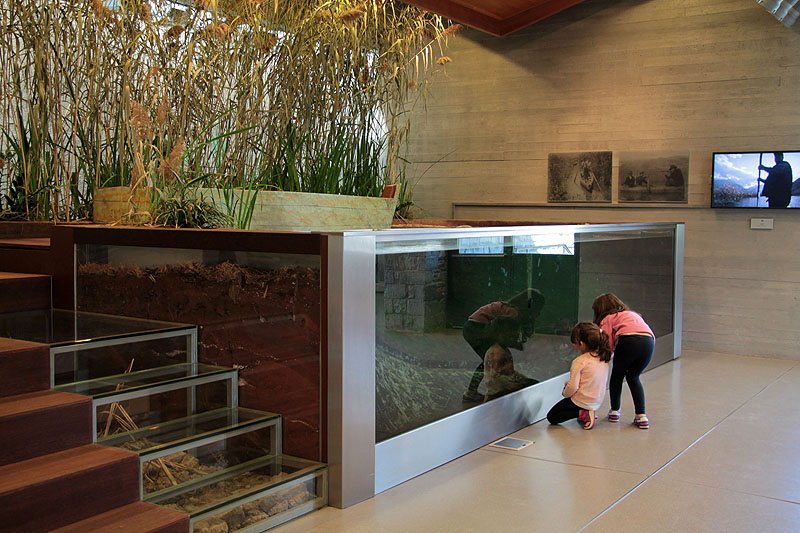 Βγήκαμε στον εξώστη του μουσείου και με τα ειδικά τηλεσκόπια παρατηρήσαμε κάποια από τα είδη πουλιών που κατοικούν στη λίμνη.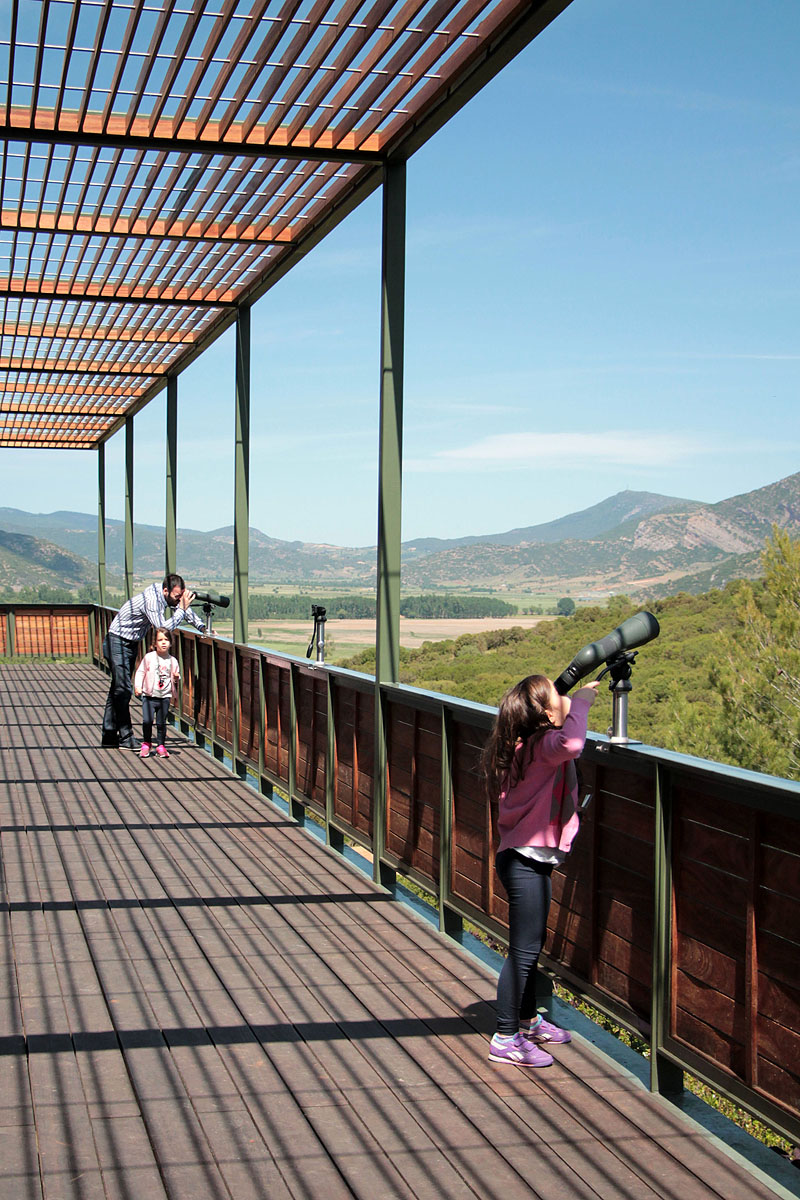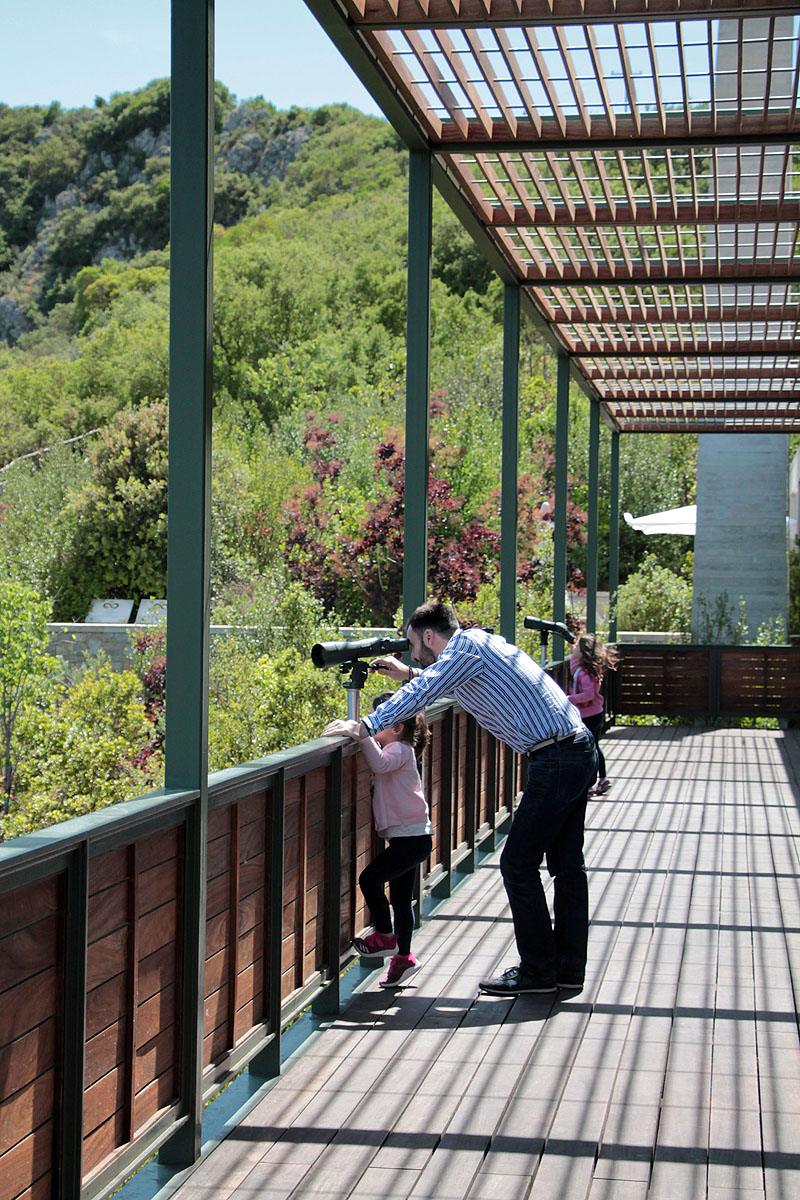 Δοκιμάσαμε όσες περισσότερες γεύσεις μπορούσαμε στην οικογενειακή ταβέρνα Πινακωτή, με φανταστική θέα στη Ζήρεια και τον Κορινθιακό κόλπο.
Ντόπια κρέατα (σπεσιαλιτέ τα αρνίσια παϊδάκια) και ολόφρεσκες σαλάτες. Ζεστό ψωμί πασπαλισμένο με ελαιόλαδο και ρίγανη. Πεντανόστιμα ορεκτικά -αφράτους κολοκυθοκεφτέδες, ταλαγάνι ψημένο στα κάρβουνα, το απίθανο τυροπιτάρι της κυρίας Τασίας. Και για τον επίλογο τα δροσερά γλυκά του γιου της Δημήτρη:
Ενθουσιαστήκαμε με την επιλογή διαμονής μας, τον ξενώνα Πέρα Αλώνια στα Κάτω Τρίκαλα.
Χώροι άνετοι, καθαροί και αισθητικά προσεγμένοι με πέτρα, ξύλο και μέταλλο σε απόλυτη αρμονία.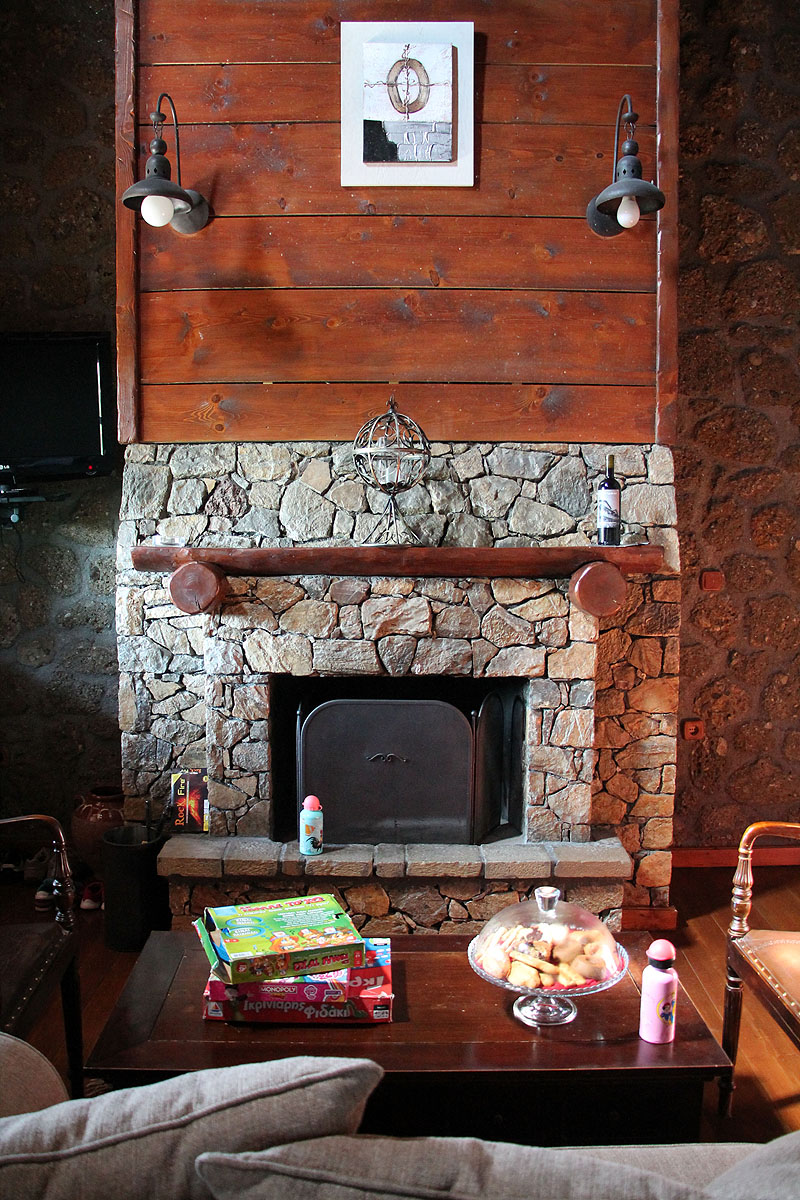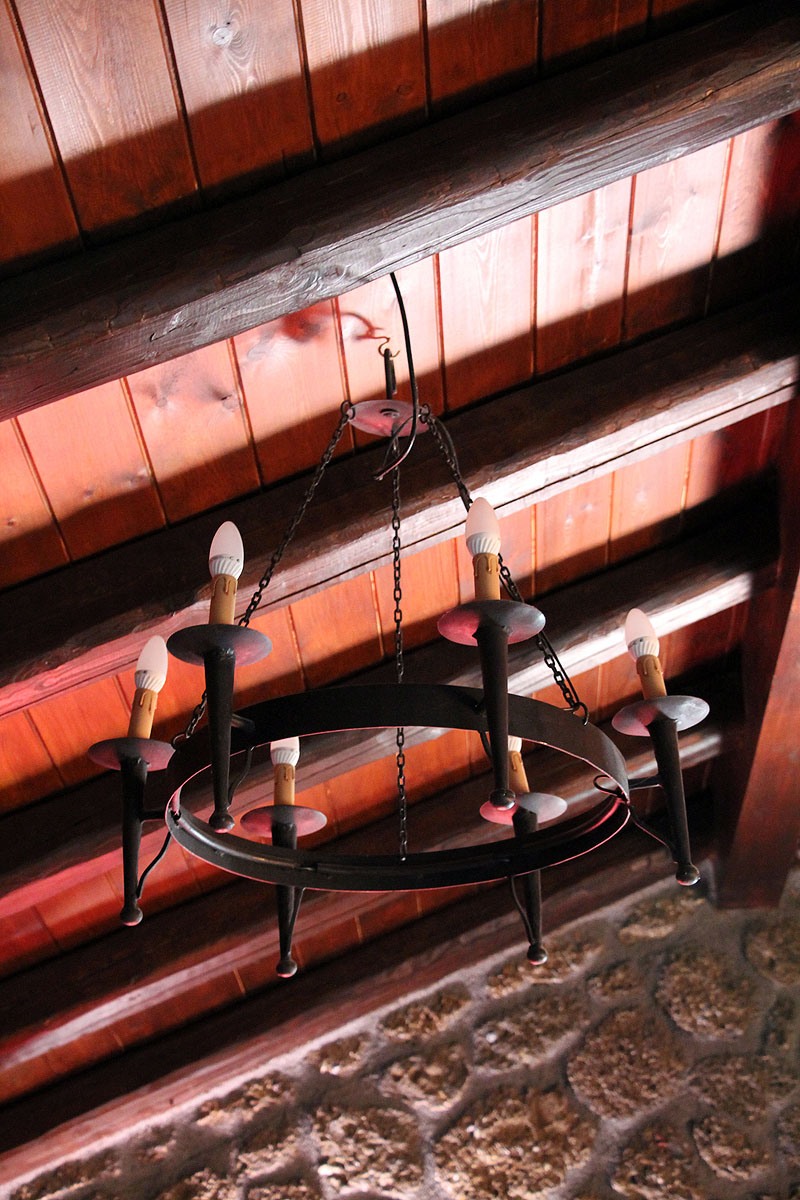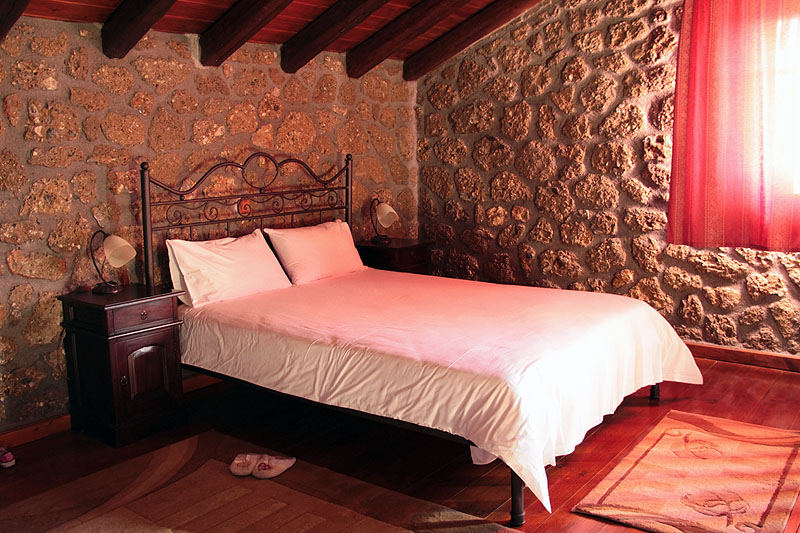 Φροντισμένα παρτέρια γεμάτα με πολύχρωμα, μυρωδάτα λουλούδια.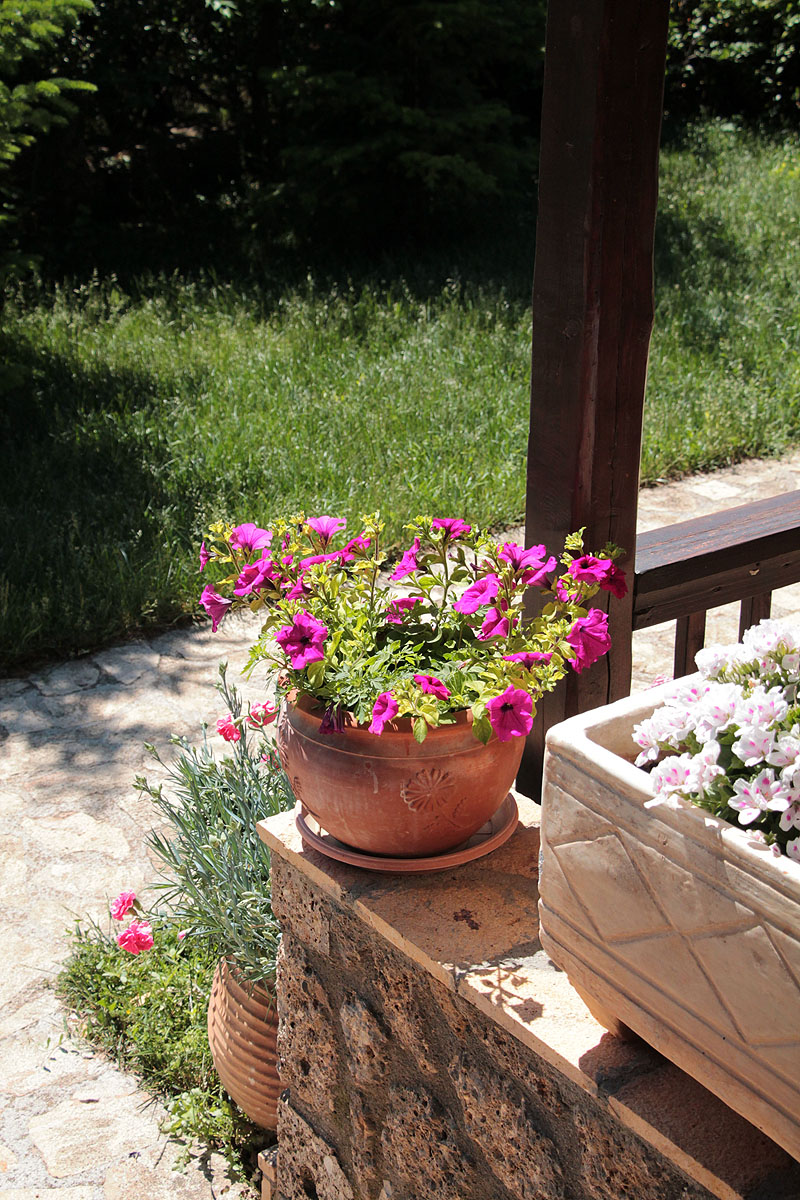 Υπέροχη, ήσυχη τοποθεσία με θέα στα γύρω βουνά.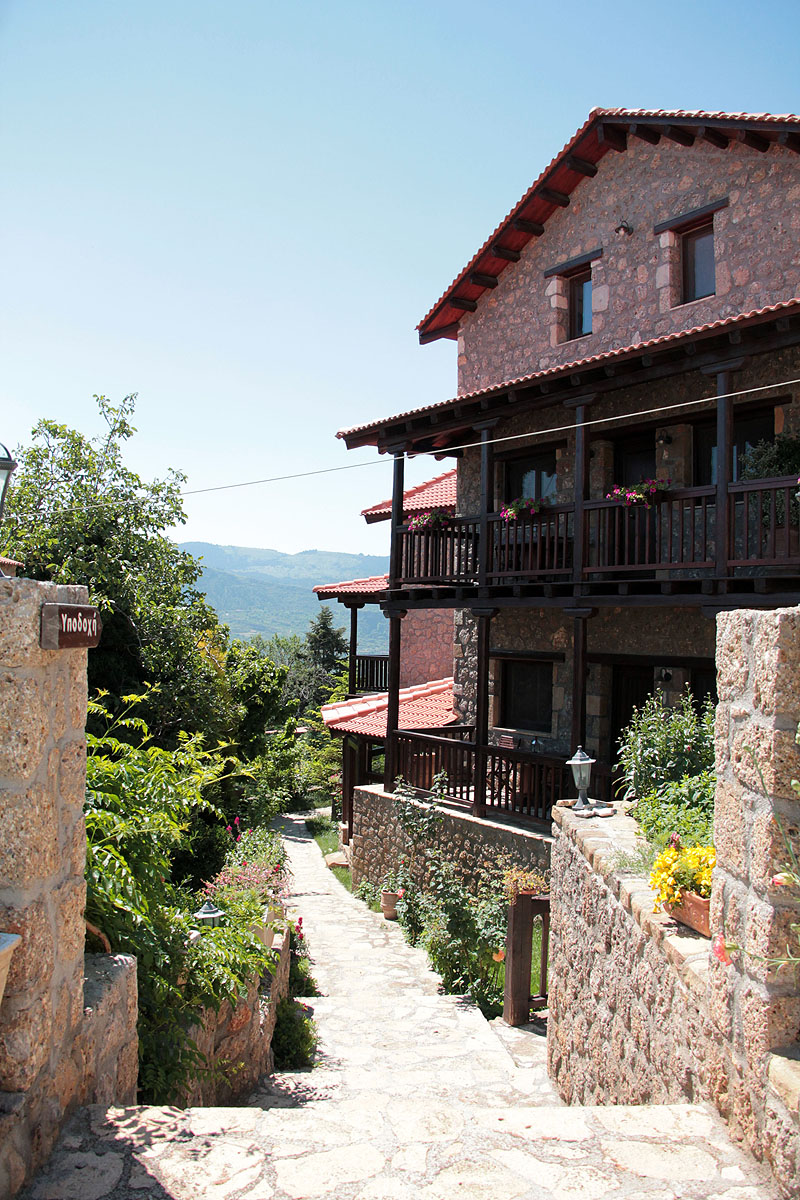 Πρωινό στο δωμάτιο με επιλογές που ανανεώνονταν καθημερινά.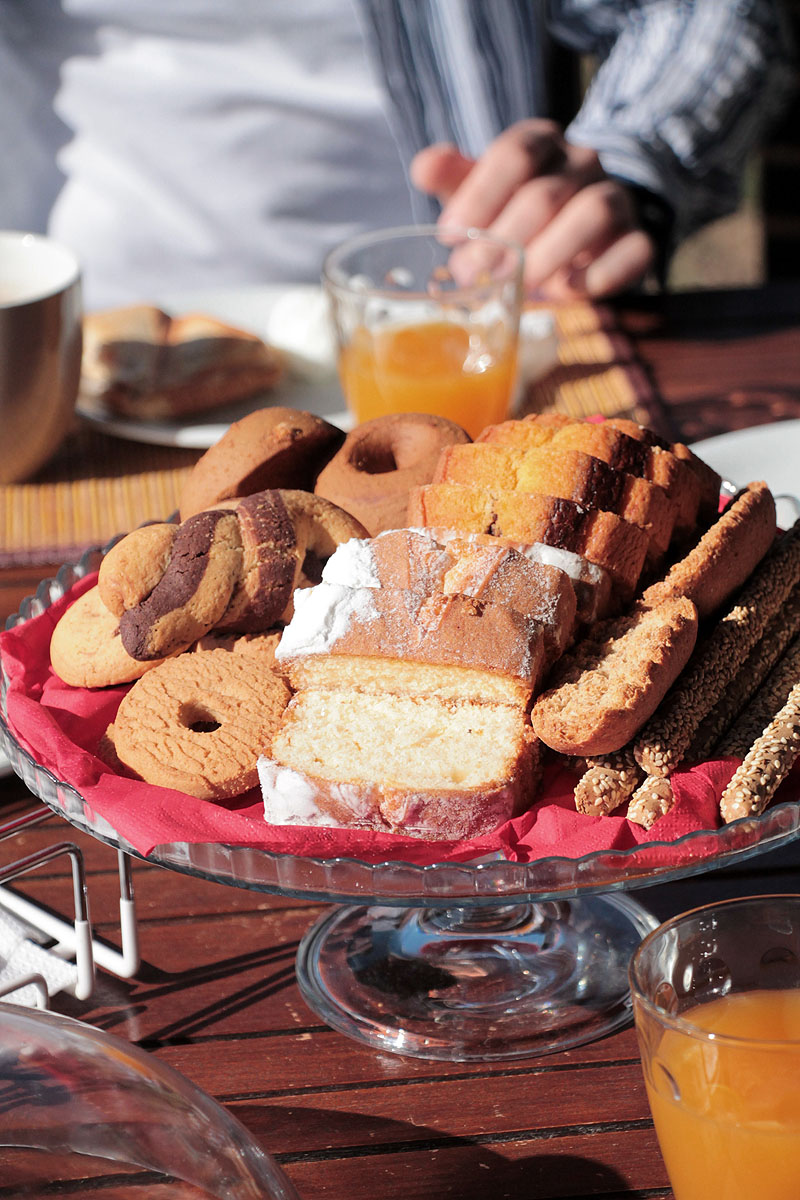 Αισθανθήκαμε δέος μπροστά στην Παναγιά του Βράχου, η οποία είναι χτισμένη σε βαθιά ρωγμή μιας συστάδας βράχων που υψώνονται επιβλητικά πάνω από το εκκλησάκι.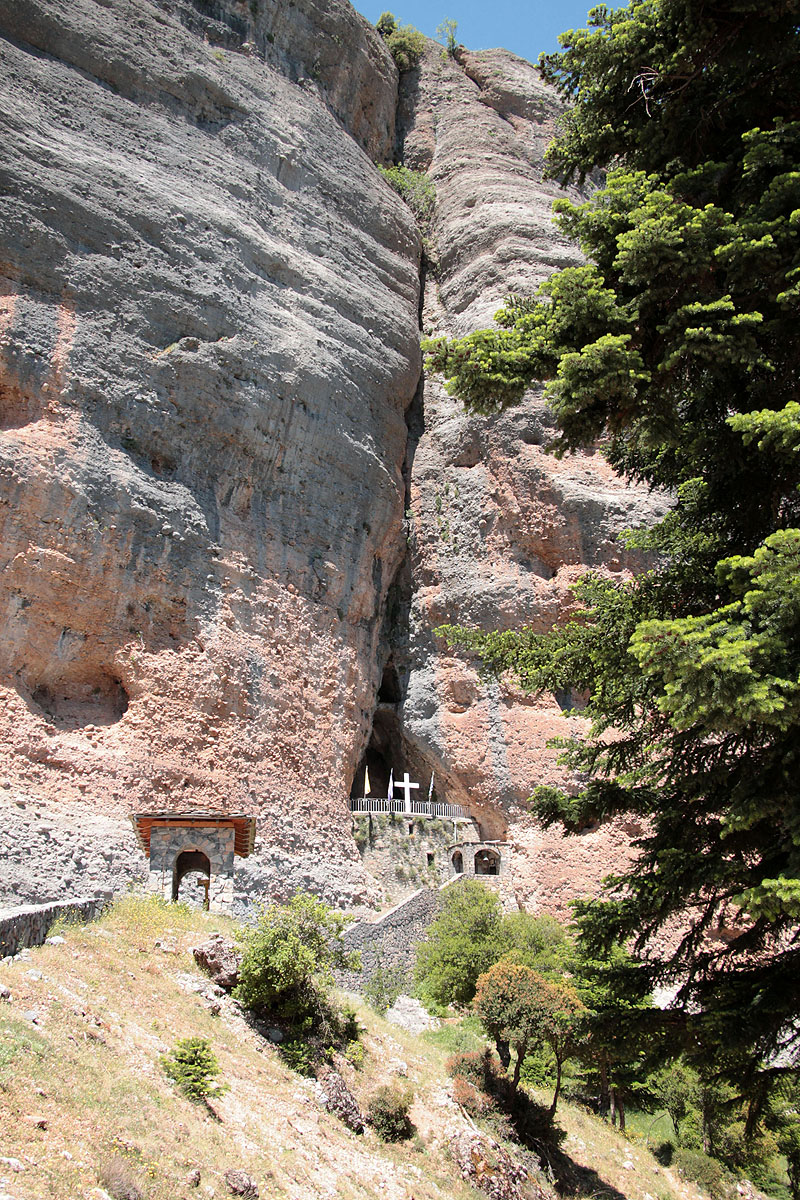 Μαγευτήκαμε από τις καταπράσινες διαδρομές στην καρδιά του δάσους.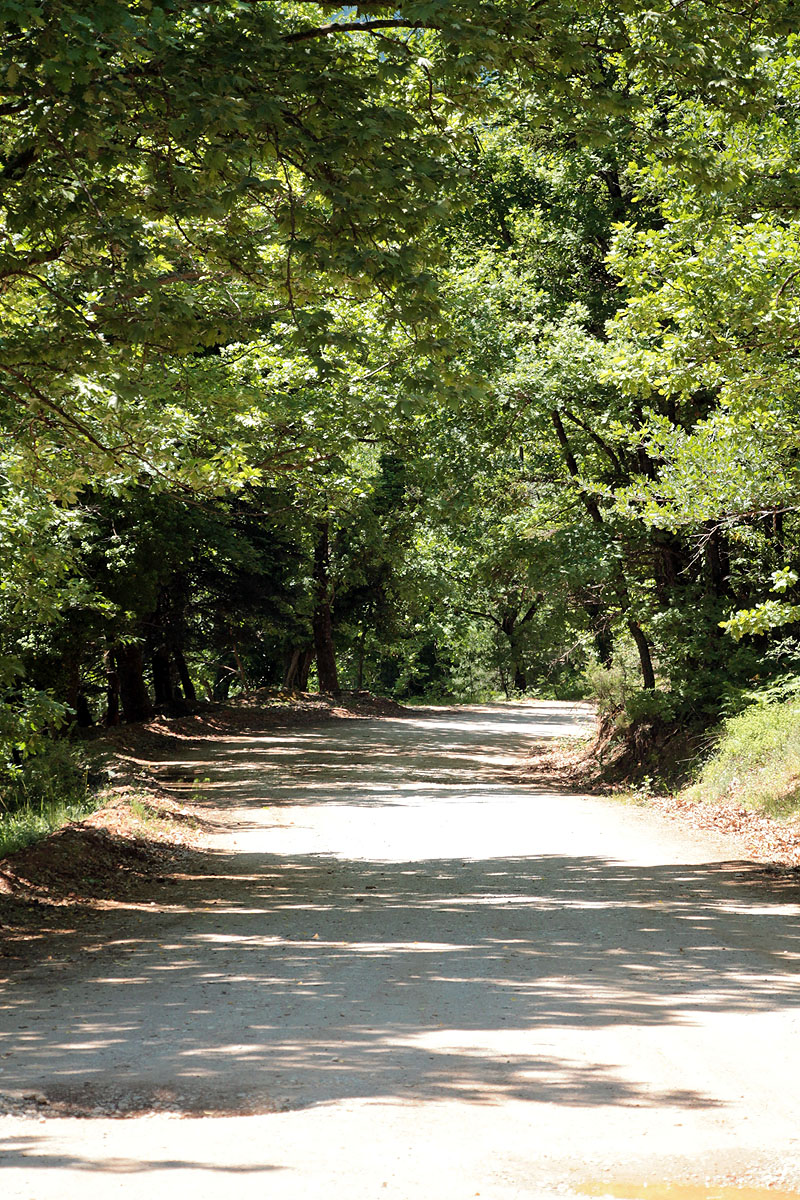 Και από τα καρτποσταλικά τοπία.
Υπήρχαν στιγμές που ένιωθα ότι δεν βρίσκομαι στην ορεινή Κορινθία, αλλά σε κάποιο ελβετικό ή αυστριακό βοσκοτόπι. Και περίμενα τη στιγμή που θα εμφανιζόταν μπροστά μας η Μαρία (Τζούλι Άντριους) και θα τραγουδούσε -τι άλλο- "the hills are alive with the sound of music".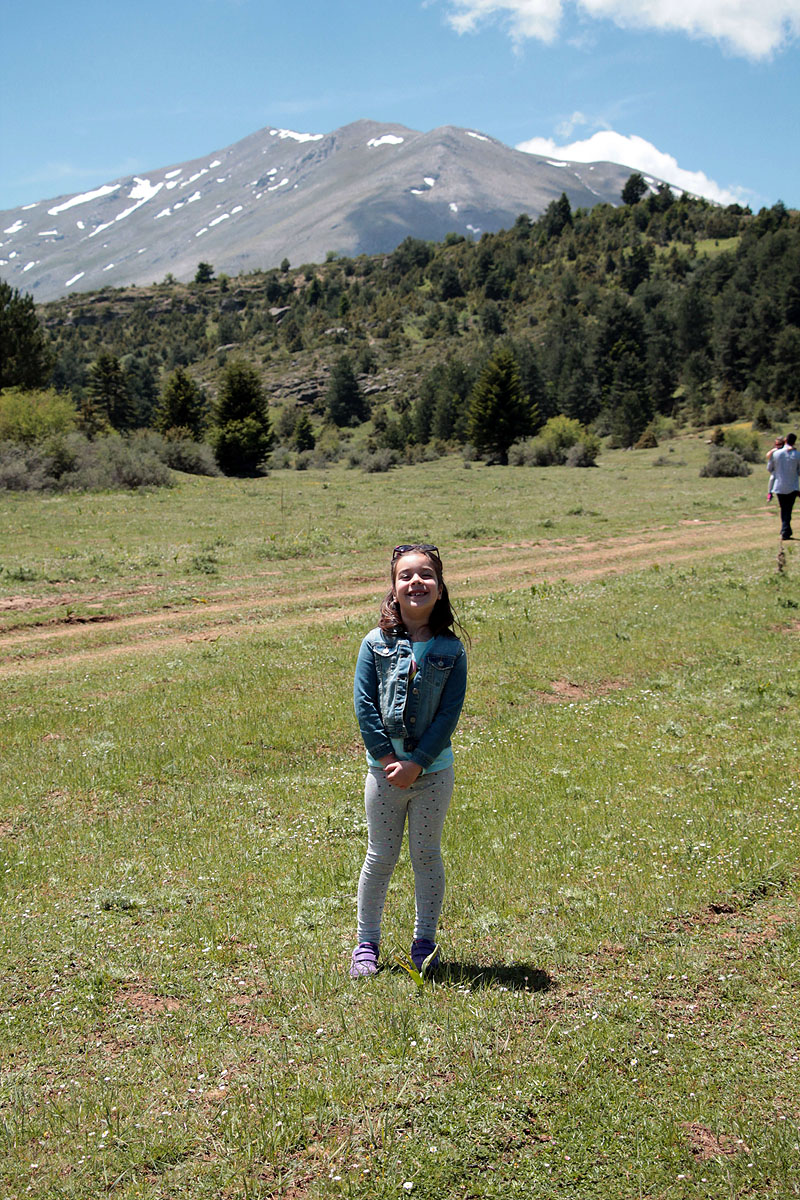 Στη λίμνη Δόξα
Ανεβήκαμε μέχρι τη μονή Αγίου Γεωργίου και θαυμάσαμε την παραμυθένια εικόνα της λίμνης Δόξα από ψηλά.
Κεραστήκαμε γλυκό τριαντάφυλλο που φτιάχνει ο ηγούμενος της μονής.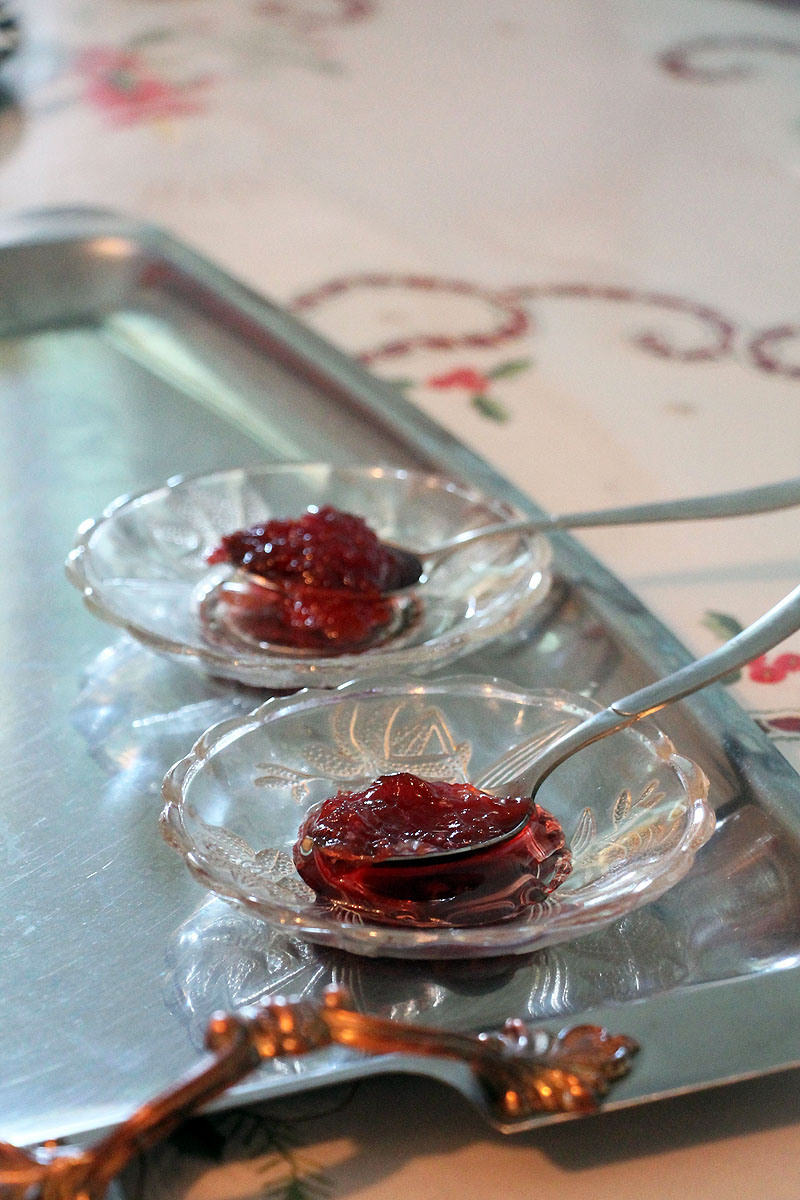 Περπατήσαμε στη στενή λωρίδα γης που καταλήγει στο εκκλησάκι του Αγίου Φανουρίου, στο κέντρο σχεδόν της λίμνης και αγοράσαμε παραδοσιακά προϊόντα μοναδικής νοστιμιάς. Ζυμωτό ψωμί και ξηρούς καρπούς, μέλι από έλατο, γλυκό του κουταλιού βύσσινο -ίδιο σε γεύση με αυτό που έφτιαχνε η γιαγιά Ερμιόνη, όσπρια και γαλοτύρι.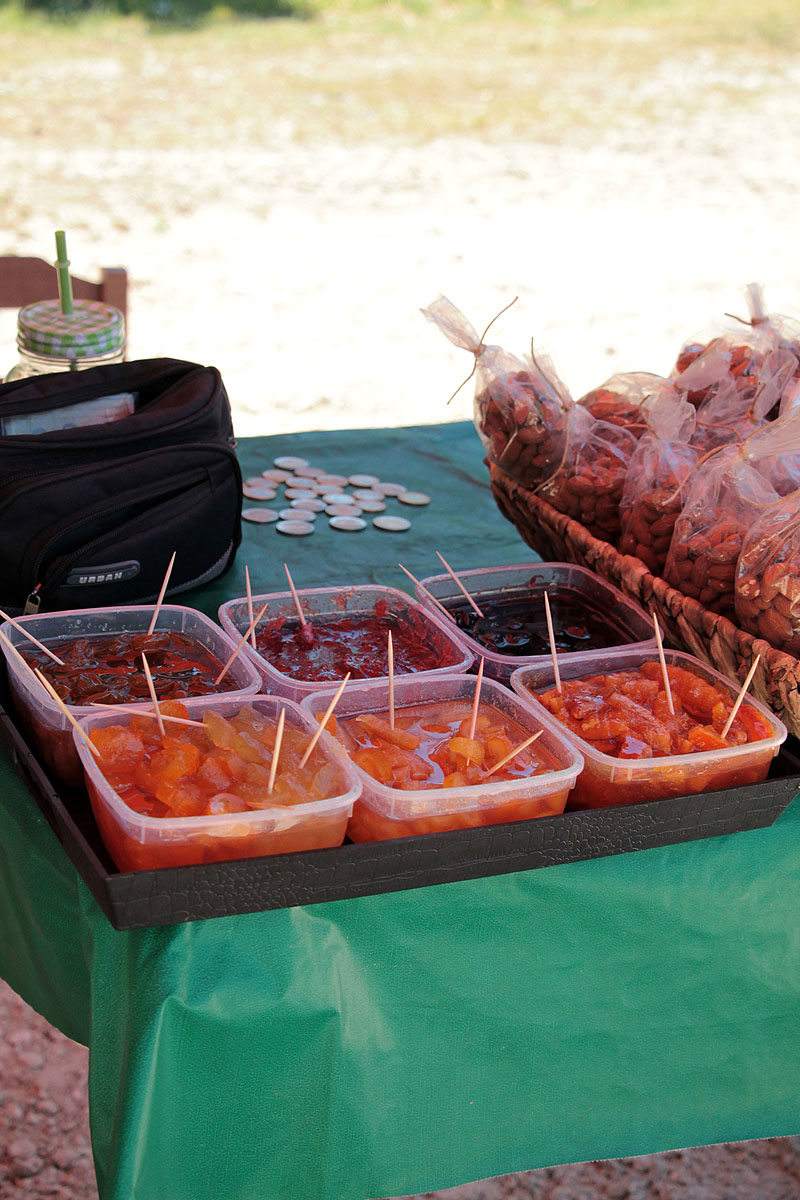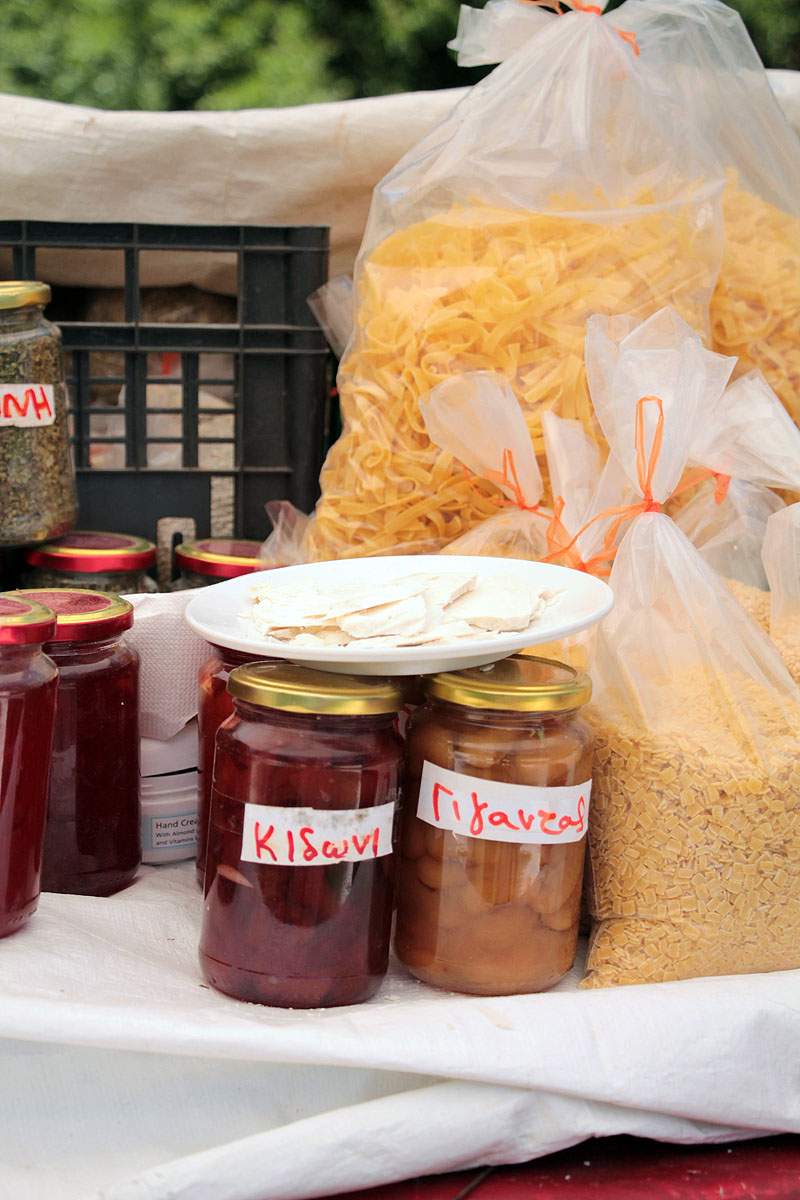 Στα Μεσαία Τρίκαλα απολαύσαμε το παγωτό μας ακούγοντας για πρώτη φορά το αγαπημένο μας τραγούδι για αυτή την περίοδο :)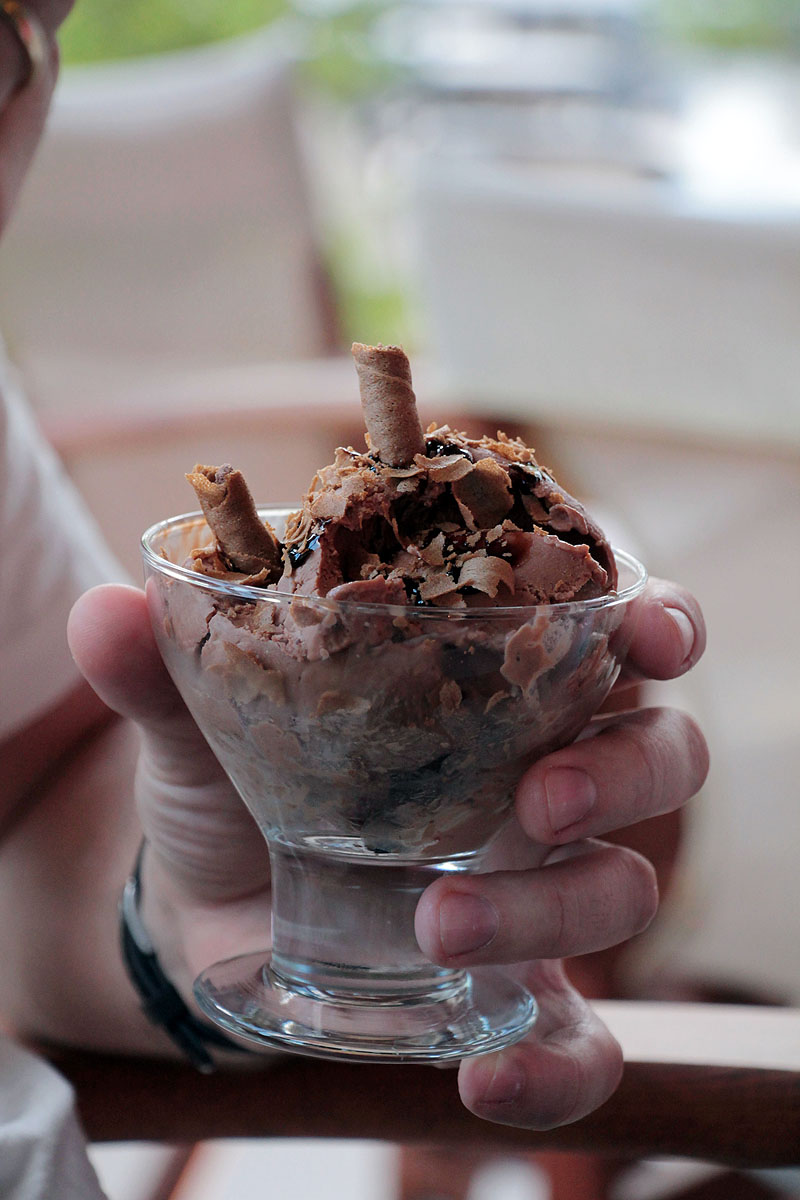 Χαλαρώσαμε, παραδομένοι απόλυτα στη λυτρωτική ηρεμία της φύσης ολόγυρά μας.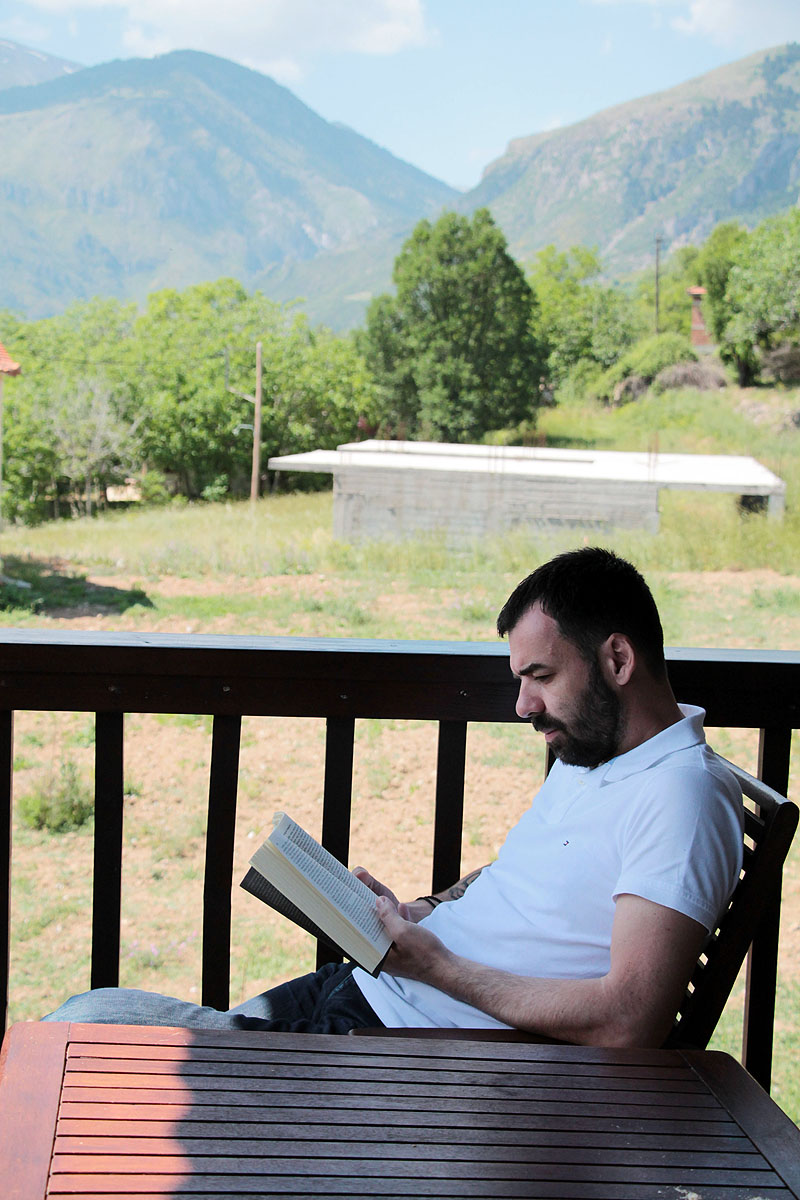 Επισκεφτήκαμε το κέντρο ελεύθερης ιππασίας στο Ρέθι, ιππεύσαμε με πολλή χαρά τον Μπόμπο και τη Σοκολατίνα (πανέμορφα άλογα αν και αφρόντιστα δυστυχώς) και αρμέξαμε την αγελάδα της φάρμας, τη Μέρκελ!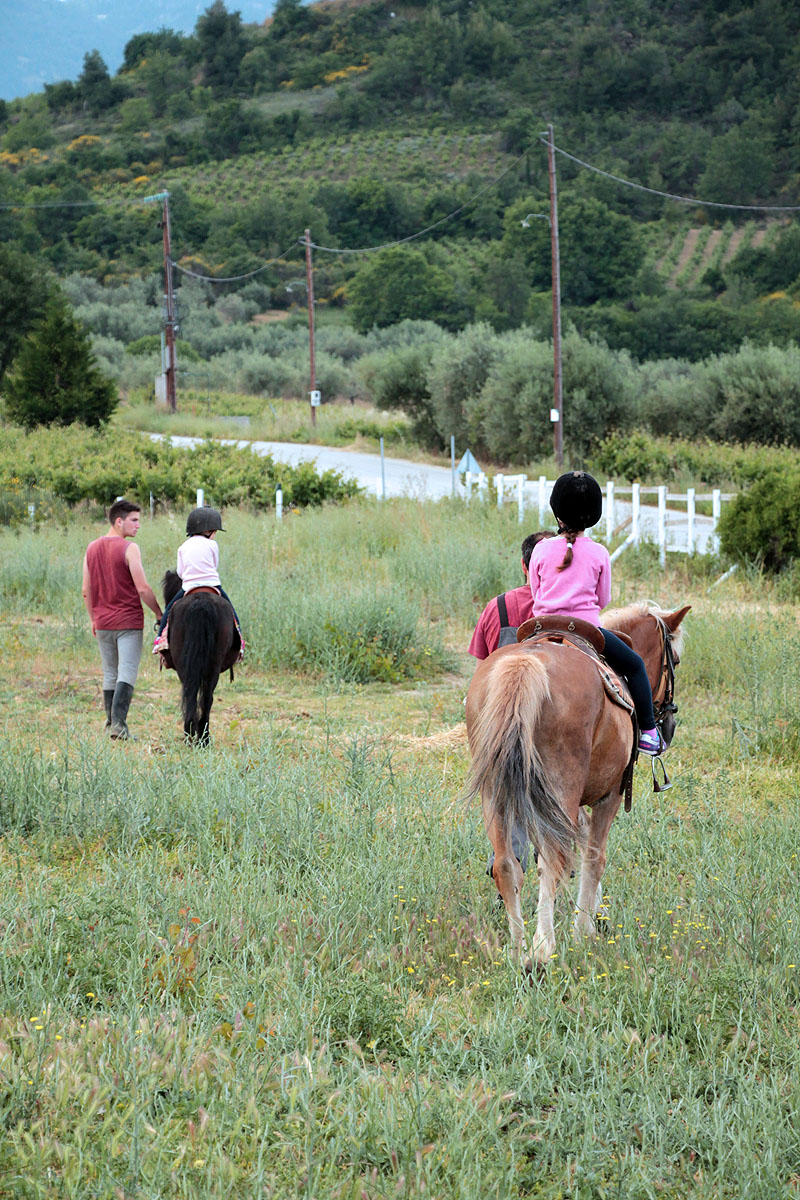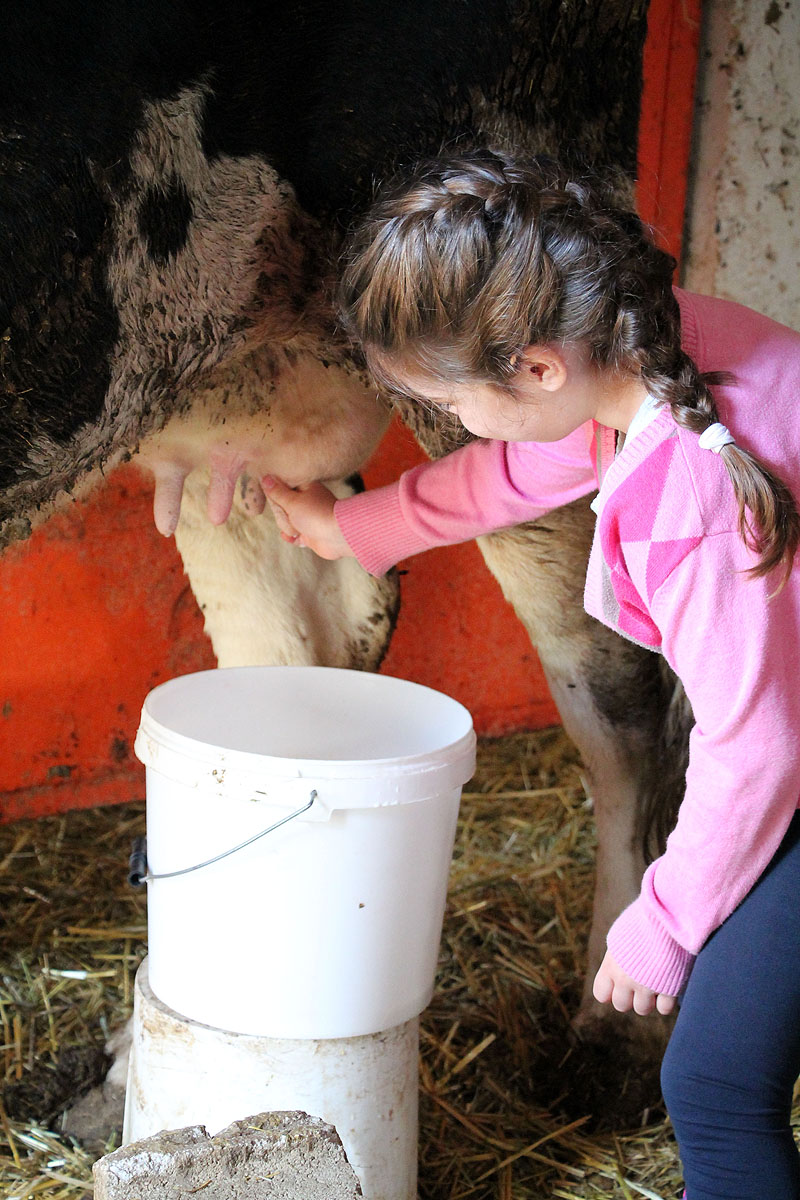 Από το κέντρο ελεύθερης ιππασίας περάσαμε απέναντι, στον πολυχώρο Φύση κ' Ον με γήπεδα ποδοσφαίρου και μπάσκετ, παιδική χαρά και μικρό ζωολογικό κήπο.
Κάναμε καινούριους φίλους, με πρώτη και καλύτερη τη χαδιάρα Αλίς: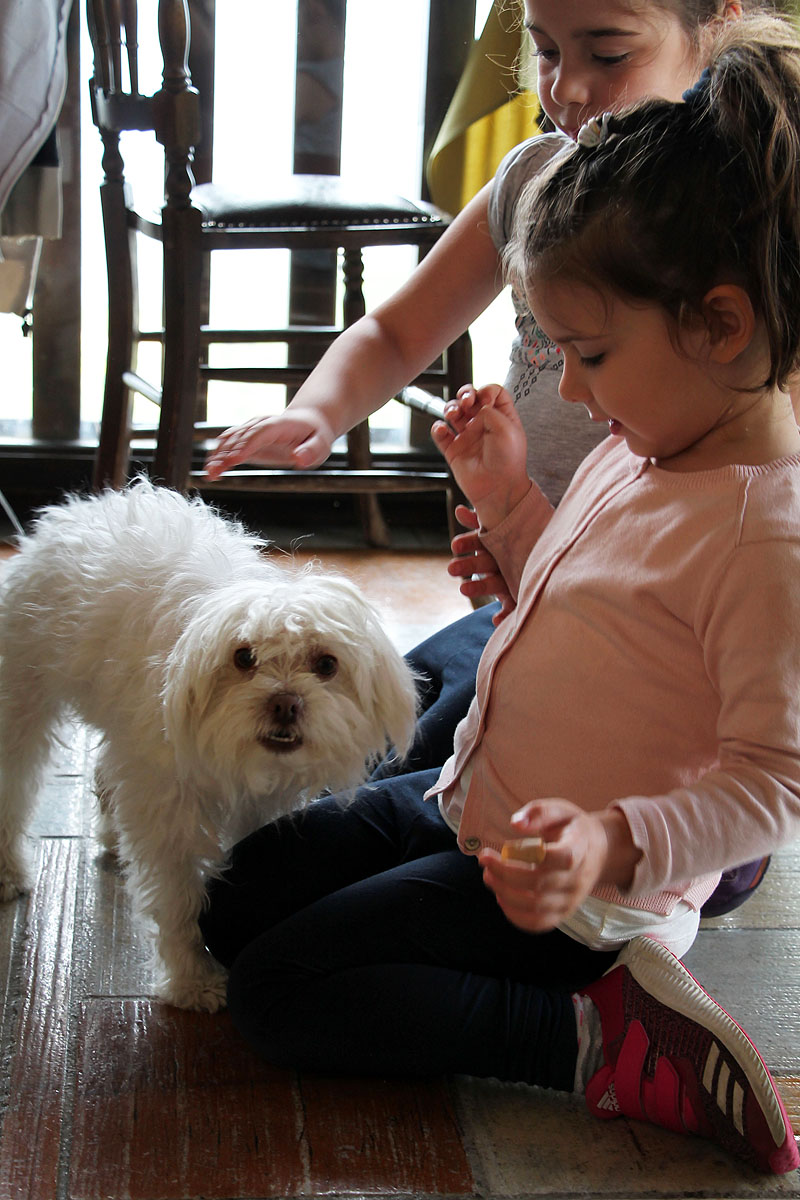 Γιορτάσαμε τον Κωστή.
Με επιτραπέζια παιχνίδια και πολύ χορό, συνοδεύοντας λίγα παραδοσιακά εδέσματα με το ευχάριστο κόκκινο κρασί που είχε την καλοσύνη να μας προσφέρει η κυρία Κική, ιδιοκτήτρια του ξενώνα: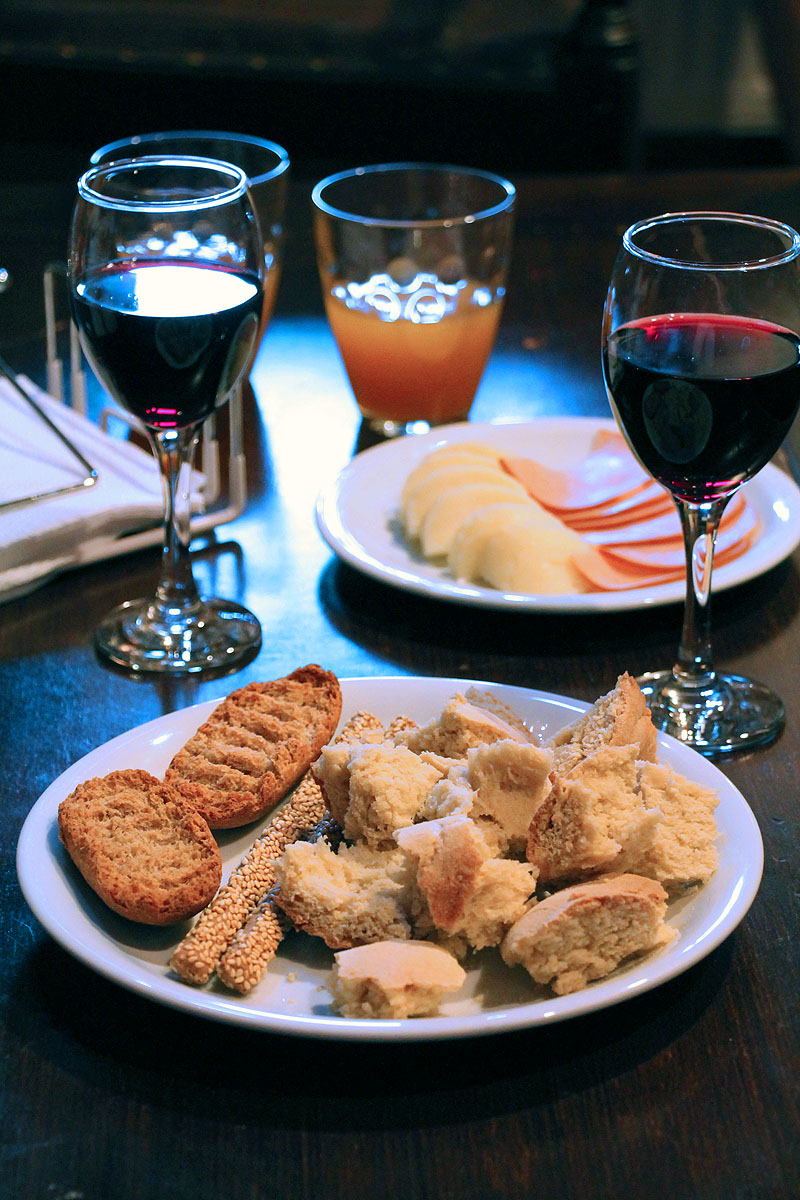 Φωτογραφίσαμε όσα περισσότερα ζωηρόχρωμα και ευωδιαστά λουλούδια μπορούσαμε:
Στην ιστορική μονή Αγίου Βλασίου σταθήκαμε κάτω από τον πελώριο πλάτανο, εκεί που ο Παπαφλέσσας συναντήθηκε με τους προκρίτους των Τρικάλων για να αποφασίσουν την έναρξη του αγώνα.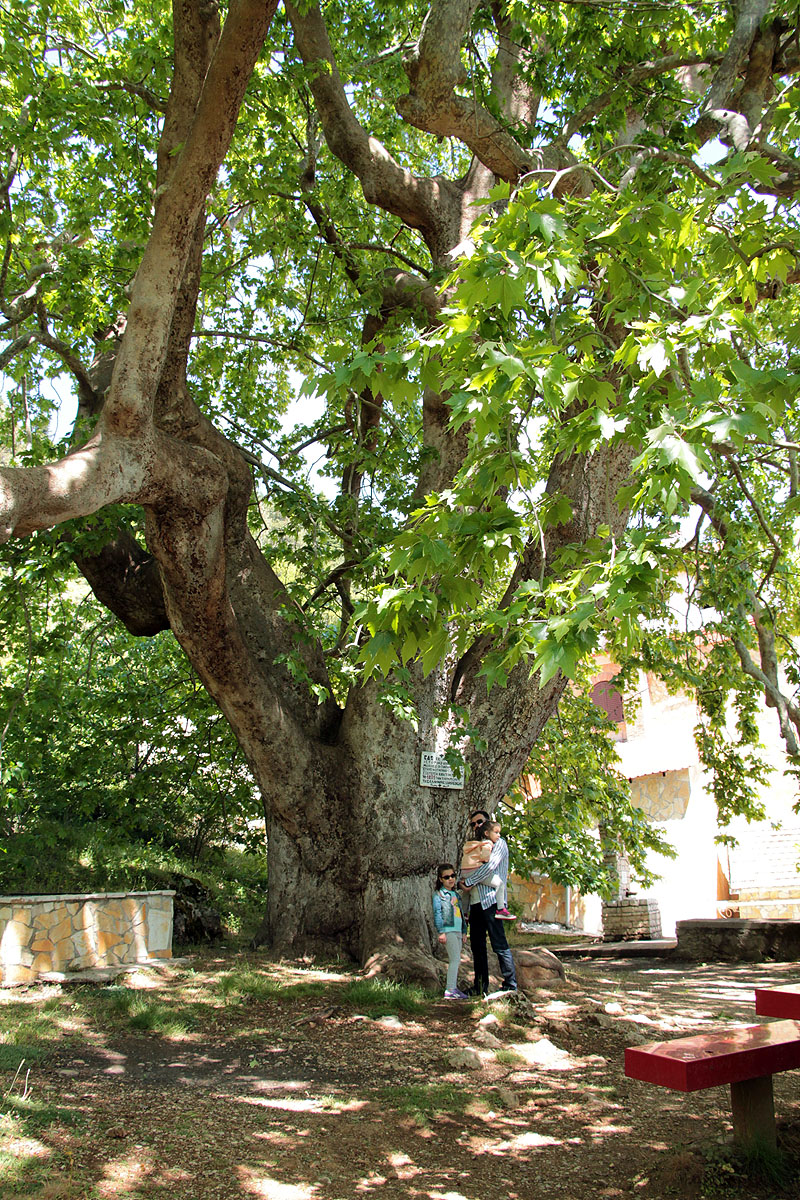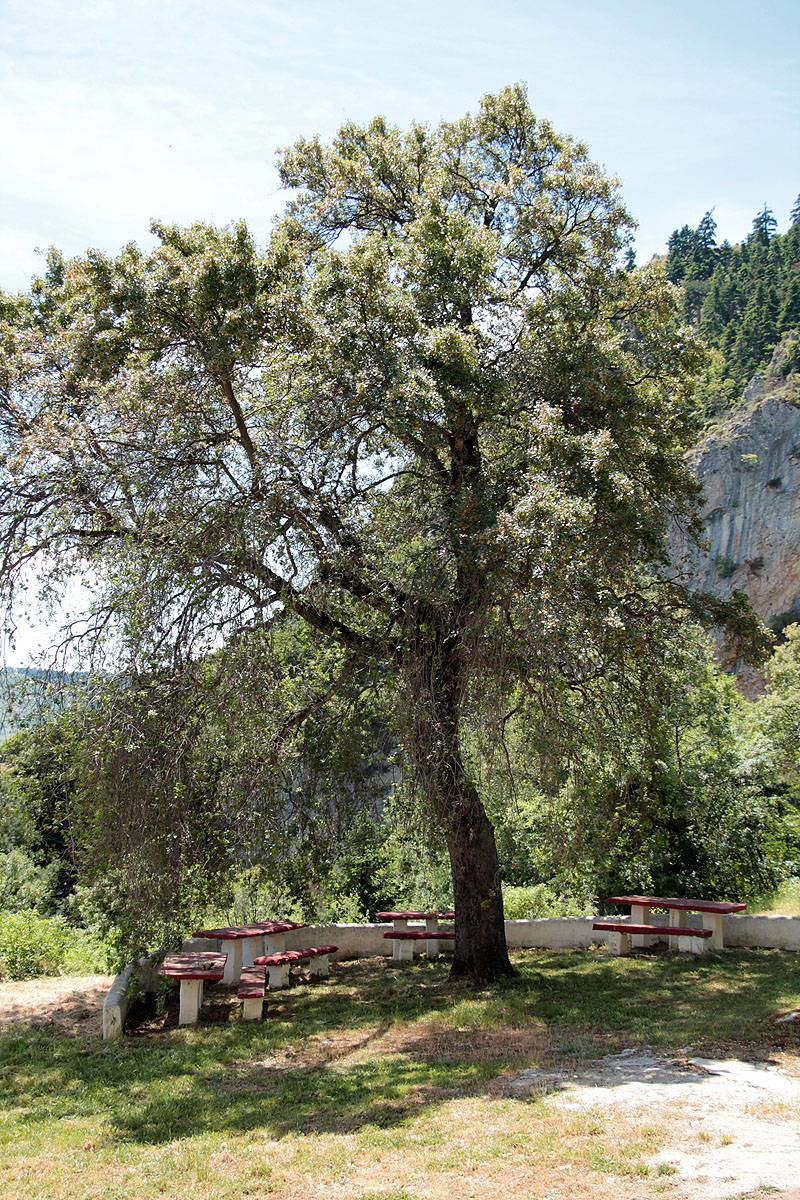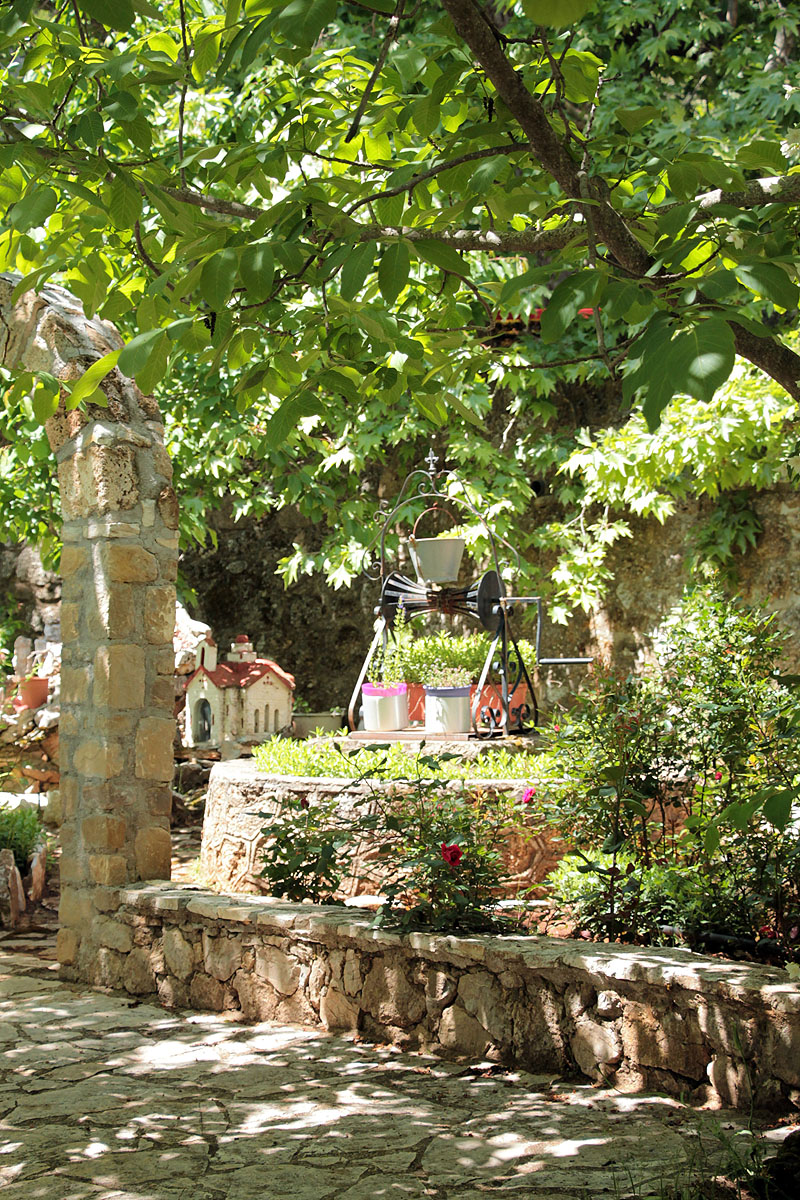 Λίγο πριν φτάσουμε στην (εποχική) λίμνη Δασίου, μας περίμενε μία πολύ ευχάριστη έκπληξη! Πάνω από 80 αγελάδες έβοσκαν νωχελικά στο καταπράσινο χορτάρι: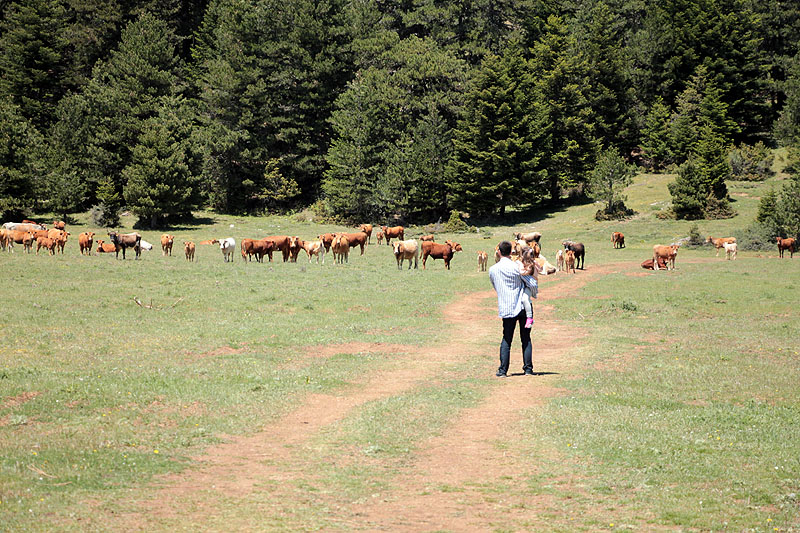 Ανεβήκαμε ψηλά, τόσο ψηλά που μας φαινόταν ότι λίγο ακόμα και θα αγγίζαμε τα σύννεφα, φωνάξαμε με όλη μας τη δύναμη και ακούσαμε την ηχώ μας να μας απαντά παιχνιδιάρικα: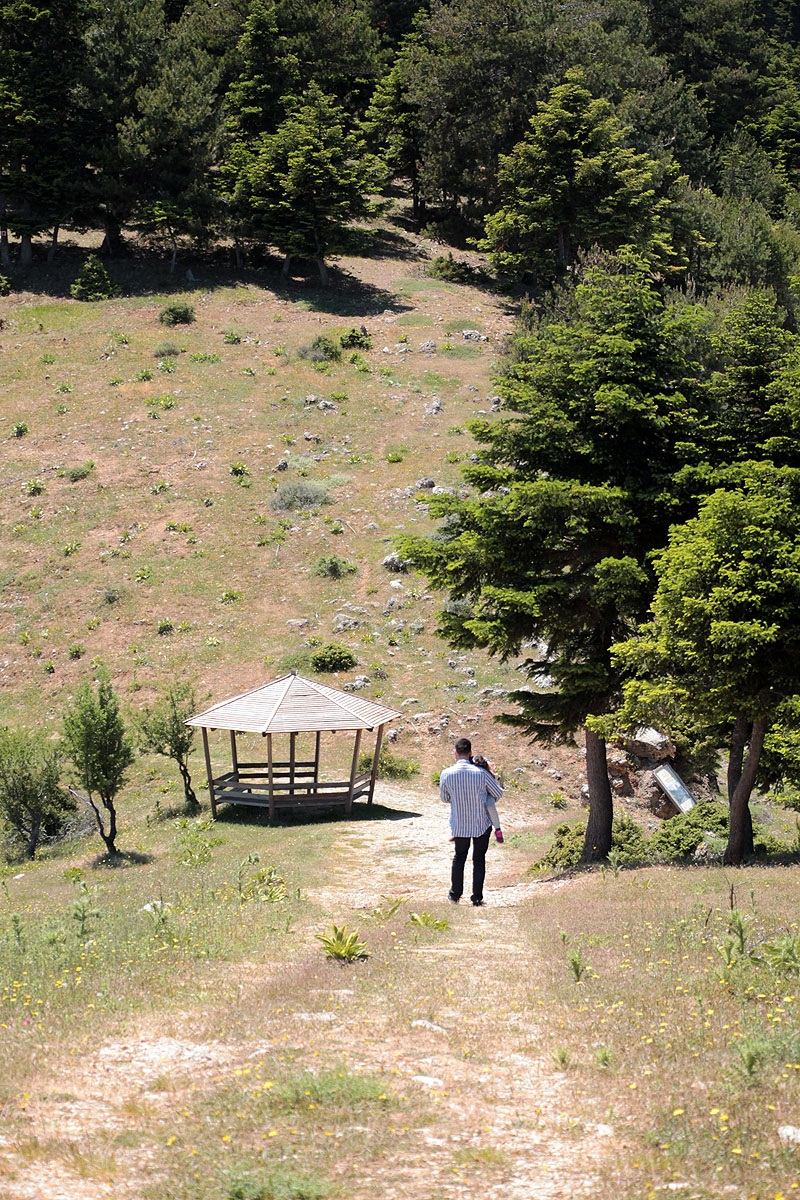 Παίξαμε πολύ, κάναμε όσες περισσότερες βλακείες μπορέσαμε να σκεφτούμε, γελάσαμε με την καρδιά μας και αγαπηθήκαμε ακόμα περισσότερο.